Face-to-Face Continuing Education Opportunities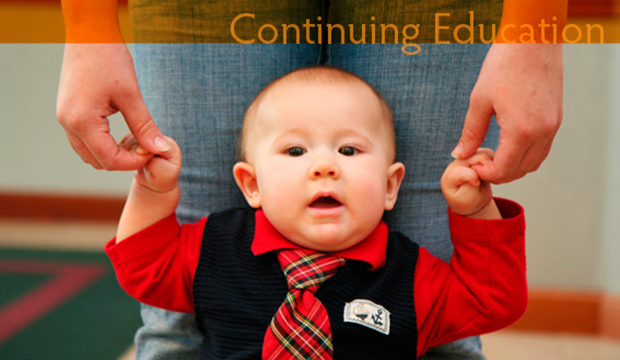 NOTE: Only content related to very young (birth – eight) children and/or their families will be approved. For example, this means that attending a conference on traumatic brain injury in adolescence would not be approved for BCW CEUs. Also, if the Continuing Education  Committee does not believe the information included in the workshop or event could be supported by findings or recommended 'best practices' in peer-reviewed journals (i.e., evidence or research based information), then it will not approve BCW CEUs in such instances.
Please Note:  Project SCEIs does not accept training on CPR because it is a basic expectation for working within the BCW system.  Credit will not be awarded for a course if credit has been previously awarded to the learner for completing the same course.
ONE-TIME CONTINUING EDUCATION CREDIT FOR PROFESSIONAL ORGANIZATION MEMBERSHIP
---
Project SCEIs will give a one-time addition of 5 continuing education (CE) hours for proof of membership in one of two Early Childhood-related professional organizations: National Association for the Education of Young Children (NAEYC; http://www.naeyc.org/) or Council for Exceptional Children (CEC; http://www.cec.sped.org).  Credit will not be given for joining both.
As a field, it is important to connect with one another through professional organizations that focus on best practices for providing supports in a manner that meets the needs of young children and their families. Providing the one-time 5 CEU hours acknowledges the personal and professional benefits of joining a professional organization. Proof of current membership in NAEYC equals 5 CEUs in Area 1 or proof of current membership in CEC equals 5 CEUs in Area 2.  Please send proof of membership to Project SCEIs at listen@valdosta.edu.

RECURRING CONTINUING EDUCATION EVENTS
---
PLEASE NOTE:  These reoccurring events have multiple dates, times and locations. Please follow the link below to find a city near you.
Child Welfare Training Collaborative (CWTC) is sponsoring a number of free trainings around the state. The CWTC  is a partnership between the Georgia Division of Family and Children Services and Georgia State University's School of Social Work Professional Excellence Program. "Bringing everyone to the same table creates an opportunity for community partners to have a shared understanding of issues facing children and families and also strengthens collaborations to promote better outcomes for Georgia's children." For more information regarding the collaborative, please click here.
The following training topics have been approved for SCEIs Area 1 CEU credit. To find a city near you and register, please click here.
Trauma 101
CEUs: 3.0 (Area 1 | Children and Families – Birth to 8)
Brain 101
CEUs: 3.0 (Area 1 | Children and Families – Birth to 8)
Brain/Trauma 201
CEUs: 5.0 (Area 1 | Children and Families – Birth to 8)
UPCOMING CONTINUING EDUCATION OPPORTUNITIES
---
PLEASE NOTE:  The majority of these learning opportunities are not hosted by Babies Can't Wait. Please be sure to check with the host to ensure that an event has not been canceled, rescheduled, or relocated.
Parent to Parent | Peace, Love and Harmony
September 14, 2022
7:00 PM – 8:00 PM
Contact: Erin Nason
Email: enason@northmetro.org
Phone: 678-290-7830 ext. 1143
Location: North Metro Church, 2305 Barrett Parkway, Marietta, GA 30064
CEUs: 1 hr (Area 2 | Children with Disabilities and Their Families)